Fauna, flora and vegetation - Benahavís
Flora And Vegetation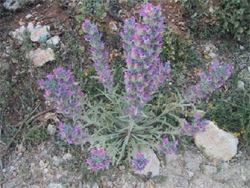 The Bermejense Sector, named after Red Smith, and is characterized by the presence of volcanic substrates, peridotite and Streamers resulting from its metamorfización which print a peculiar flora established on them character, in this municipality, leading a large number of endemic taxa, conditioned by the high toxicity of the substrates, rich in heavy metals, especially nickel. Some of these endemic species are the baetica staehelina, alysum Malacitanum, capillipes arenaria, Halimium atriplicifolium ssp. serpentinicola, etc.
The municipality is in the Termo-Mediterranean bioclimatic characterized by the annual average temperature of 17 to 19º C. resulting in a very warm winter.
The ombroclima is halfway between the subhumid (P 600-1000 mm.) And wet (P 1000-1600 mm.) Which is corroborated by the plants found in the vicinity, such as cork oak and, above all, the Quejigo African, which have very high water requirements.
However this high rainfall is not reflected in the vegetation, appearing this xeric and burned appearance. This is due to the large xericity of peridotíticos substrates, his great inability to retain rainwater. Therefore still abundant vegetation still has great exuberance.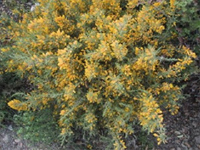 The tree layer would be dominated by the Alcornoque, this alternaria Pine (Pinus pinaster), while in some depressions and fresh shady we find various species of oaks (Quercus Faginea, Quercus x Marianic).
Shrubs compose the second layer of wood, and be the Mastic (Pistacia lentiscus), Acebuche (var Olea europea. Sylvestris), hawthorn (Rhamnus mirtifolius, Rhamnus alaternus, Rhamnus oleoidis), juniper (Juniperus oxycedrus), trees (Arbutus unedo) , Rusco (Ruscus aculeatus), Olivilla (Phillyrea angustifolia), Torvizco (Daphne gnidium), Asparagus (Asparagus albus, Asparagus horridus), etc. As frequent lianas Rubia peregrina ssp we would have. Longifolia, Smilax aspera, Aristolochia baetica, etc.
Dominant tree. Quercus Suber
Forest. Quercus Suber, Algarrobo, Olea sylvestris, Asparagus aphyllus, Blonde longifolia
Dense thicket. Myrtus communis, Callicotome villosa, Phillyrea angustifolia, Teline linifolia
Degraded scrubland. Monspeliensis Cistus, Cistus crispus, Erica scoparia, Lavandula luisieri
Rangelands. Hispanic Dactylis, Poa bulbosa, Tuberaria guttata