Natural spaces - Benahavís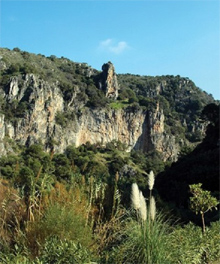 Its privileged location surrounded by peaks, on the foothills of the Sierra de las Nieves, in the middle foothills of the Serrania de Ronda and just a few kilometers from Marbella and Estepona, with which adjoins the municipality, make Benahavís an authentic natural treasure tourist.
From the mountains more than 100 kilometers! A Spanish coast and much of North Africa can be seen. Cross its municipal three rivers, which rise in the Serrania de Ronda and flow into the Mediterranean:
The Guadalmina River (or River mines), 28 Km. In length, which borders the eastern part of town and had in times of great strategic importance defensive, also serving its waters to move the flour mills.
The Guadalmansa river (or river oil mill "mill"), which crosses the term from north to south on its western side.
The Guadaiza river (or river Aixa, mother of Boabdil sultana the boy), 22 Km. In length, on the left side of the road from Ronda to San Pedro and passing in front of the ruins of Daidín.
Benahavís landscape is very picturesque. From the main road up to the town of Estepona, you reach the main road of Benahavis. Then the ground rises and shows the foothills of the mountains. The river Guadalmina fits into the ground forming a canyon.
On both margins high peaks are observed. Sticks to the road, and right and left margin below a viaduct known as "the Narrows" by the narrowness of the land, which is one of the most beautiful landscapes of Benahavis appears.
After this stretch, the landscape widens and rises to the village entrance. It stands on the ground of its abundance in peridotite rocks, granite and marble. Its vegetation is typical of mountain, being mostly covered by bushes and trees, forming a beautiful landscape.
Another place to stand in Benahavís is known as pond Mozas Las Angosturas, a hollow in the bed of the river Guadalmina, whose waters are dangerous whirlpools. The Junta de Andalucia has declared "Natural Monument".
There are also important mineral deposits in Benahavís marble, graphite, talc, mica and iron. Benahavís is therefore a paradise for nature lovers, ideal for hiking and cross it to enjoy a unique landscape which is a relaxation for the mind and an exaltation of the senses.